12/10/2022 - Reading time 4 min
How to protect operators against attacks on their ticket vending machines and kiosks ?
With ticket vending machines and kiosks being increasing attacked due to the relative ease that criminals are able to gain access to the cash held inside there is a need to find a solution that will both protect the cash and deter criminals from attacking the ticket vending machines in the first place.
With more than 35 years of experience of Intelligent Banknote Neutralization Systems (IBNS), Oberthur Cash Protection has unrivaled experience in the protection of cash in a wide range of environments - ATMs, during transportation by CITs and also in across the retail industry.
Intelligent Banknote Neutralisation Systems (IBNS) : a powerful security solution
IBNS an effective deterrent for over 35 years
Through its experience with Intelligent Banknote Neutralisation Systems coupled with the use of security ink developed in collaboration with SICPA, Oberthur Cash Protection is able to deliver indelible inks making the stolen money of no real value to the criminals.
As a matter of fact, most of the self-service deposit machines being manufactured today are able to identify and reject stained banknotes. Through publicity campaigns such as in national and local press members of the public have been made aware that these stained banknotes are almost certainly stolen. This means that their value is greatly reduced so criminals will not gain the reward that they want so move onto softer targets.
Securing Cash in Banks ATMs, Cash in Transit and in the retail industries
Attacks continue to rise across the Cash In Transit (CIT) and banking industries. As a result these have been at the forefront to widely use Intelligent Banknote Neutralisation Systems to protect the lives of their employees, prevent attacks against ATMs and armored CiT vehicles as well as the resulting collateral damage to pedestrians, buildings as well as the negative impact on customer goodwill etc.
Being equipped with this IBNS technology has enabled these 2 industries to reduce the level of attacks, this is clearly demonstrated in those countries where it is mandatory to use this technology, as criminals have moved to attack less secured locations such as are found in the retail industry for example ticket vending machines, etc.
It is therefore important that serious consideration be given to protect these environments using IBNS.
Case Study : Germany, the perfect target for criminals
Germany : a cash oriented country
Germany has for many decades proven to be one of the countries in the world where cash usage has not declined.
Based on the 2019 UK review 'Access to Cash', Germany's share of cash payments carried out by households at points of sale (POS) was about 80%. This figure can be compared to 68% in France or just 34% in the UK where, in general, digital and card payments are increasingly being favored.
"Neither digitalisation nor the pandemic have been able to oust cash. When it comes to making payments, cash is still by far the most popular means in Germany," explained Johannes Beermann, the Bundesbank's Executive Board member responsible for overseeing cash management.
The majority of respondents (58%) to the German Central Bank survey "Payment behaviour in Germany" (2021) voiced a preference for cash payment at POS.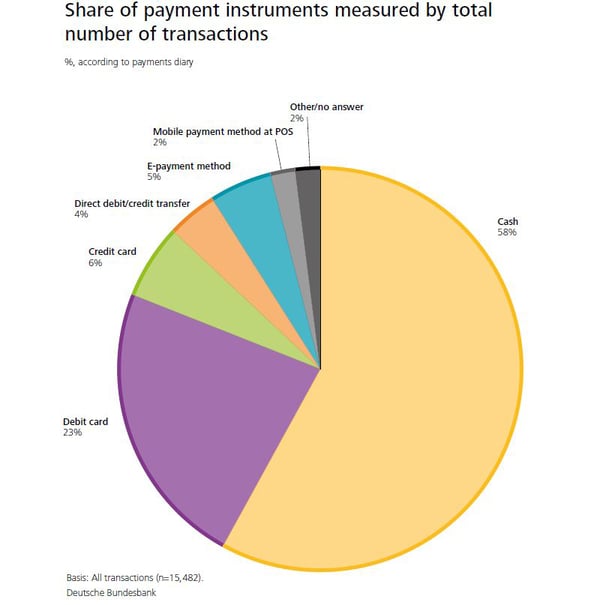 This continued high use of cash means that kiosks and vending machines will continue to have to accept cash in high volumes so need to be protected against physical attacks.
Kiosk and Vending machines: an attractive target for criminals
Ticket vending machines with their thin metal cabinets and limited security measures are easy targets for criminals.
Often located on railway platforms with little or no surveillance, criminals have all the time they need to complete their activities without being disturbed by security guards or the police.
With these vending machines potentially holding many thousands of euros, more and more machines are being attacked creating significant costs for the train operators - machine replacement, equipment refurbishment, customer disruption etc..
Why IBNS is the most appropriate security measure against attacks on kiosk and vending machine
A tailor-made solution to prevent kiosk and vending machine robberies

In order to prevent these types of attacks, Oberthur Cash Protection is developing tailor-made solutions for those modules which store the cash inside the ticket vending machines.
With the fast growth in the number of kiosks and vending machines being rolled out for high value items such as rail tickets, cryptocurrency and cannabis dispensers, some of which are only able to accept cash, and as a result can hold many 0,000's of USD or euro, so have become very attractive targets for thieves.
With the OCP systems there are a range of integrated sensors, which will detect when the kiosk is being attacked, this will cause the, the Integrated In-Machine Staining Device (IMSD) or In-Cassette Staining Device (ICSD) solutions to automatically activate and spread the indelible ink over all the banknotes making them impossible for the criminals to spend. By making the stained banknotes have little or no value, the Oberthur Cash Protection IBNS technology will definitely prevent attacks on the equipped ticket vending machines and kiosks both today and in the future.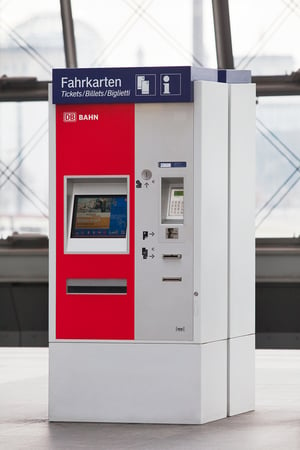 Photo: Dresdenstudi/wikipedia
The role of IBNS solution in the city of the future
City strategies worldwide are designed to more and more remove vehicles out of the heart of cities in order to make for a greener environment, as can be seen in London, Paris, etc. This will result in the continued increase in the use of public transportation.
The ecofriendly transport networks (train, tramway, bus, etc.) are developing at a huge pace to meet this demand and as a result, ticket vending machines are increasing being installed in new locations to meet customer demands.
This ever-increasing estate will only expand the possibility of criminals gaining access to more and more money, increasing the damage to the operators' infrastructures as well as causing inconvenience to travelers.
By using Intelligent Banknote Neutralisation Systems. IBNS, the threats to property and personnel by criminals will be eliminated.
Any new automated ticketing system should include IBNS cash protection from the very start.



The ticket vending machines and kiosks are an easy prey for criminals, however with the use of Oberthur Cash Protection's In-Cassette Staining Device (ICSD) or In-Machine Staining Device (IMSD) solutions inside their thin metal cabinets, attacks will be prevented by making the banknotes of no value.




Maxime Charmillon, International Sales Manager, Oberthur Cash Protection