10/02/2022 - Reading time 3 min
Benefits of IBNS for Cash Management Companies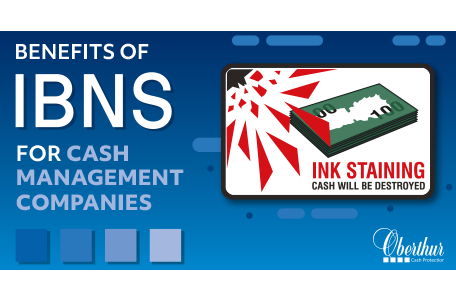 The commercial pressures on Cash in Transit companies mean that they are forever looking to offer improved services at a reduce cost but without compromising on security and the safety of their operatives.

The use of Intelligent Banknote Neutralization systems, IBNS, at all stages of the end to end transport of cash, offers a number of unique commercial and safety benefits over the continued reliance on armour.


IBNS : Intelligent Banknote Neutralization Systems
What is IBNS ?
Intelligent Banknote Neutralization Systems (IBNS) protect cash against unauthorized access by rendering the banknotes unusable: once a attack on the system is detected, all the cash is automatically marked as stolen by using a degradation agent.
Oberthur Cash Protection, Pioneer of IBNS
While invented in the 1980', it was not until the early 1990's that ir really started to develop, primeraly in Belgium and France where it was used to secure Cash in Transit against violent attacks. In 2003 the European Central Bank issued a regulation that permitted ink staining, allowed the reimbursement/exchange of stained notes. Its use was then made mandatory in Belgium where it has proven to be an extremely effective deterrent, since 2007 no CIT vehicle has been attacked.

Why targeting cash costs is crucial for CMCs ?
Cash logistic : High operating costs
Cash remains an area of bank operations with high manual labor, especially in distribution, maintenance, and processing. In regions with rising labor costs and in the context of the rapid digitization of bank operations, the share of cash costs becomes increasingly relevant.
Risk management and costs reduction : two major concerns for CMCs
Managing money, trucks and guns is all about managing risk. It requires the ability to balance risk with profit. Managers must make safety
and security equal to productivity. While someevents are difficult to prevent, there are many actions that can be taken to reduce risk and
the associated costs.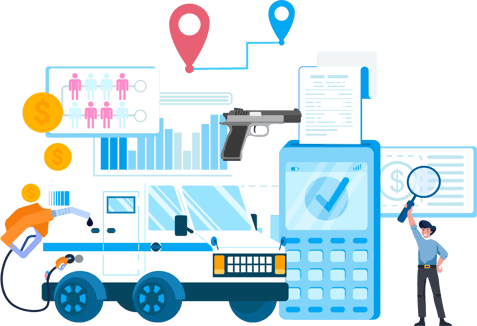 Why IBNS can help Cash In Transit companies to stay competitive ?
The benefits of IBNS include improved safety and reduced operation costs, examples include :
SAFETY
Proven to reduce instances of attacks at all stages of the end-to-end cash transport cycle.
Staff flexibility :
The individuals ability to carry weapons is not a selection criteria.

Broader recruitment as operatives do not need to be willing to carry a firearm.

No need to comply with fire arm regulation.
The number of crew members can be reduced such as potentially one operative can carry the case into a bank or retailer and then return
to drive the vehicle. In countries such as France and Belgium there are now CiT vehicles that are already operated with a one-man crew.

Greater customer comfort as there is no requirement for heavily armed guards to be seen walking through shopping malls, retail stores, bank branches.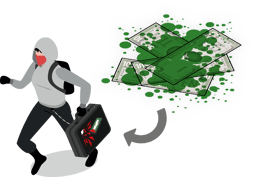 Increased safety as operatives do not need to physically defend the carry cases when attacked as the IBNS system will activate as soon as the criminals try to open them or move them a specified distance from the vehicle/operative or they can be remotely.
Less danger to the public from firearms being discharged during the robbery.
COST SAVING
IBNS allows the introduction of reduced armour on vehicles that can in turn lead to theuse of soft-skinned vehicles as is seen in Belgium, Sweden and France. Several benefits follow from this :
Reduced amount of armour on vehicles means that they have greater freedom to travel so deliver cash to the more restricted locations such as underground vehicle locations, narrower access roads etc. which the traditional armored vehicles cannot do.
Lighter vehicles mean lower operating costs – reduced fuel consumption, lower maintenance, lower taxation groups, more drivers being eligible to operate them than the larger vehicles, extended vehicle life as less body weight to carry etc.
Reduced armour means lower vehicle purchase cost - no requirement to strengthen the chassis, specialized overseas manufacturers etc
The use of commercial vehicles means that they are not subject to HGV regulations.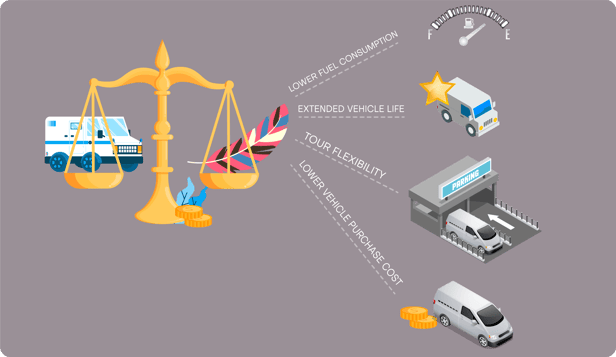 END-TO-END PROCESS
Cash is prepared and secured at the cash center
Incorporated within the new IBNS cash protection solutions are the systems that will enable the cash to be tracked to the delivery or collection location.
Flexibility to introduce new cash collection systems such as cash collection in retail store floor locations.
What does it look like in the field ?

Experience with Covid was that by having two man crews due to using IBNS CiTs such as Fidelitas in Italy were able to continue operating as they able to maintain social distancing which would not have been possible with the older style of working.
The Cash in Transit industry is evolving to meet the ever increasing demands of its customers not just to reduce operating costs but to be able provide the cash services that they need to develop their businesses.
For example, in Europe and the US the introduction of even greater levels of self-service with retail stores with no shop employees means
that the CiT operatives need to collect cash without being in a secure location. The use of IBNS means that this can be undertaken securely without the need of multiple guards carrying firearms.
Another example is the growth in the use of one-man trucks, which can offer a faster, more flexible service at a lower cost to clients.
To meet this changing environment the CiT industry cannot rely on the use of ever increasing levels of armour and firepower of the guards. IBNS enables the industry to be more flexible to meet the more demanding customer and economical requirements that it increasingly faces. By looking towards Europe, you can see how IBNS systems are being utilized to meet this challenge.



Congratulations, you made it all the way to the end. Now that you know about BENEFITS of IBNS are you ready to use them for your activity ? Let's move forward and protect you cash together! 🤝

Contact us 👉 ocp@oberthurcp.com




Eric Hauw, Director of Sales & Marketing, Oberthur Cash Protec

tion